Truck Driving Myths and Facts from the DOT Compliance Experts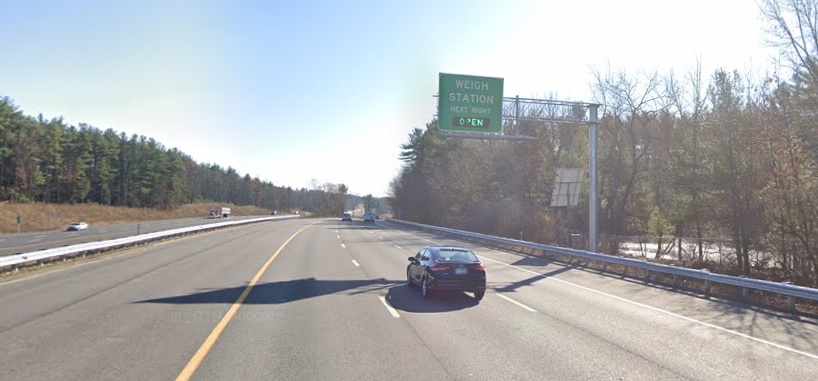 During my State Police career I've performed over 10,000 level 1 roadside inspections and probably waved millions of other truckers through without much attention. Why are some drivers pulled over and some are not?
First of all, why are the State Police enforcing Federal trucking laws? In 1982 the US DOT didn't have enough inspectors to check all of the trucks and busses on the road so the Motor Carrier Safety Assistance Program was founded. MCSAP provided grants to the states for commercial vehicle enforcement which is why you see the State Police or Highway Patrol pulling trucks over.
The Federal Motor Carrier Safety Administration, or FMCSA, would prefer that inspectors pull over the next truck in line. This would mean that all carriers would have an equal chance of getting pulled over regardless of the truck age or condition but that usually isn't how it works.
The condition and overall appearance of the truck as well as the behavior of the driver can influence which trucks are pulled over.
Whether you are a driver, maintenance technician, safety manager or business owner we all want to be the best at what we do and the state inspectors are no different. As a trooper I wanted to get unsafe trucks and drivers off of the road. We all have families that share the road with large trucks so we want to know they are safe.
In this blog I am going to share my knowledge and experience with you to better help you survive, or even avoid, the dreaded roadside inspection. The best part is it's free and easy.
Your cargo may have an impact on why you are singled out
Since most inspectors are required to perform a certain percentage of hazardous material checks. Those trucks may receive more attention.
Overweight trucks are almost guaranteed an inspection since excessive weight can lead to an out-of service condition.
Leaking cargo or spilling of material is an automatic pull over.
Is your load properly secured? Loads requiring straps or chains need to be regularly checked to prevent movement. Are they worn out? Do you have enough chains or straps for the load you are carrying?
In some states agriculture cargo may prompt an inspection as well.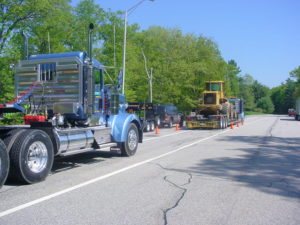 Visibly obvious defects are like waving a red flag as you're driving down the ramp.
Cracked windshields, leaking fluids, air leaks, wobbly wheels, burned headlights and missing mirrors make your truck an easy target. Before they have even spoken to the driver, the troopers are already making a list in their heads of what to write down.
Even if the visible defects are not out-of-service violations, these defects indicate that your truck may not be maintained as well as it should be. If it's broken, fix it.
How to Prepare for a DOT Roadside Inspection?
You're driving up the interstate and the weigh station sign is flashing, "OPEN".
Are you prepared? If not, you may spend up to an hour going through a Level 1 inspection. Depending on how that goes, you may be parked all day. For a truck driver being paid by the mile, this is not a good situation.
What can you or your company do to prevent a good day from turning into a bad day?
Road side inspectors may see thousands of trucks drive through their facility each day. Less than 5% may get pulled over for an actual inspection. Your job as a truck driver or trucking company is to be in the other 95%.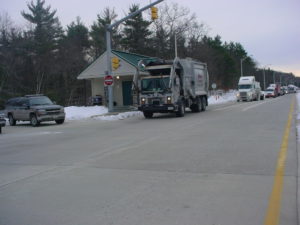 How to keep the wheels turning?
Roadside Inspection Tip#1: Maintain a low SMS score. What is SMS? The Safety Measurement System is managed by the FMCSA and scores all motor carriers in areas such as Unsafe Driving, Hours of Service and Vehicle Maintenance, etc.
Being a safe driver and a safe trucking company will keep your SMS score low. A passing SMS score may allow you to bypass the weigh station and avoid the inspection all together. On a cross country trip those 5 to 10 minutes waiting in line can add up to hours.
Services such as Pre Pass will send a signal to the weigh station with your company identifier. The computer will check your SMS score. If it is a passing score the Pre Pass will tell you to bypass the weigh station. Check the CSA website to learn about your SMS score and how to manage it.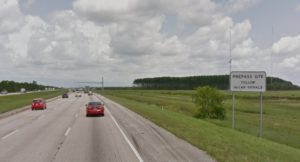 Roadside Inspection Tip#2: Follow all the directions of the weigh station staff and the road side inspectors. This seems obvious but speeding into the weigh station or not following simple directions is a sure fire way of getting pulled over.
Usually the speed limit is very low. In some states it may be 10 to 20 MPH. Coming in hot will make you stand out and maybe even spoken to.
Whatever you do, don't blow by the scale without stopping (unless the Pre Pass told you to). If they have to chase you down your day is about to go from bad to worse.
Another NoNo is to stop in the breakdown lane before the scale while you get yourself in order. You may as well have a sign on your roof asking to get pulled over.
You know that stop sign at the beginning of the scale pad? Come to a complete stop. Don't roll through or "California Stop". Inspectors are law enforcement officers and running a stop sign right in front of them is a bit insulting. You will end up paying for that.

Roadside Inspection Tip#3: Don't break the law as you pull up. That means wearing your seatbelt and not holding your phone in your hand. And just so you know, your ELD tablet shouldn't be in your hand while driving either.
Don't use prohibited items such as radar detectors. They are illegal in any commercial motor vehicle.
Many agencies have drug sniffing dogs. If you have drugs in your truck you deserve to get pulled over and you probably aren't reading this article anyway.

Roadside Inspection Tip#4: Your truck should look like you care. A messy truck says a lot about the driver and the company. A driver that shines the chrome and vacuums the cab is more likely to take their job seriously. That usually means a wave through from the inspector.
I had a pee bottles fall out of the cab and land on my boot. I have seen roaches scrambling for cover when the driver opened the door.
Grease is good on parts that require it. Grease isn't good when it is saturated all over the truck body, your paperwork and yourself. You're a professional. You and your truck should look like it.
Is your company name and DOT number professionally displayed or was it spray painted on by hand?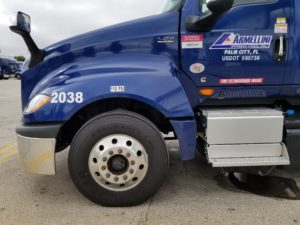 Roadside Inspection Tip#5: Be polite and professional. If you're rude or unprofessional then expect to be there a while.
Unauthorized passengers are not allowed in commercial motor vehicles. They also can cause you headaches. I have been called every name in the book by persons who had no business being in that truck in the first place. If you found them at a truck stop you should probably leave them at the truck stop.
Do you have a dog with you? Dogs can be a great traveling companion. Ask the inspector if it's okay to give the dog a break. It isn't a good idea to just let them roam free in the weigh station parking lot. If your dog has a bad attitude, it's probably best to keep him away from the inspector.
If the enforcement officer is walking over to you, turn down the radio and roll down the window. You probably shouldn't be on the phone or yapping on the CB either.
Roadside Inspection Tip#6: Know your truck. Perform a thorough daily inspection. Fix any defects before heading out on the road. Have all of your paperwork in order and ready when asked for it.
Did your maintenance department repair what was listed on the DVIR from your last trip? If they didn't then you need to hold them accountable. Don't leave your terminal with pre-existing defects.
Don't wait to document worn parts such as tires and brakes. Give your maintenance staff a heads up on upcoming repairs so they can be better prepared when the time comes to replace them.
Roadside Inspection Tip#7: Be an ELD expert. Electronic Logging Devices are a game changer for both the transportation industry as well as the roadside inspector.
It wasn't that long ago a driver could buffalo a new inspector about hours of service compliance. The days of paper log books are behind us though. If you haven't mastered the ELD yet, you need to. Understand how it works and how to transfer your grids to the inspector.
Do you have a cab card with the transfer instructions? Do you have a paper or electronic version of the ELD manual? You also have to have a paper log book with you in case the ELD malfunctions. Most drivers know every aspect of their smartphone but have only a limited knowledge of their ELD.
Fill out the required information on the ELD such as the shipping document number and trailer number. Every day you also need to certify the previous days log.
Roadside Inspection Tip#8: Are your documents in order? I would get frustrated waiting for the driver to find the documents I asked for while they dig through piles of useless papers cluttered on the dashboard.
Get a cab book and organize all of your permits, registrations and insurance documents. Throw out any outdated paperwork and for goodness sake, clean off your dashboard.
The Commercial Vehicle Safety Alliance (CVSA) publishes a checklist for inspectors as well as the "Out-of-Service" criteria. The CVSA is partnership between industry, inspectors and regulators. There is a checklist, also referred to as the "North American Standard" for several types of inspections. The various types of inspections are listed here:
Level 1 is a detailed look at the inside, outside and underneath of the truck as well as driver documents and the cargo. These types of inspection on average take at least 1 hour to complete.
Level 2 is a walk around look at the truck and driver and takes between 30 and 40 minutes on average.
Level 3 is strictly a driver and document check and can take less than 30 minutes.
Other inspection such as Level 4 or 5 are unlikely during a roadside inspection.
Also, the inspections are slightly different depending on the vehicle configuration and cargo. Obviously, a motor coach inspection differs from a gasoline tanker inspection.
The Level 1 checklist for a standard tractor trailer configuration as found on the CVSA website is:
Choose the Inspection Site.
Approach the Vehicle.
Greet and Prepare the Driver
Interview Driver
Collect the Driver's Documents
Check for Presence of Hazardous Materials/Dangerous Goods
Identify the Carrier
Examine Driver's License or CDL
Check Medical Examiner's Certificate and Skill Performance Evaluation (SPE) Certificate (if applicable)
Check Record of Duty Status
Review Driver's Daily Vehicle Inspection Report (if applicable)
Review Periodic Inspection Report(s)
Prepare Driver for Vehicle Inspection
Inspect Front of Tractor
Inspect Left Front side of Tractor
Inspect Left Saddle Tank Area
Inspect Trailer Front
Inspect Left Rear Tractor Area
Inspect Left Side of Trailer
Inspect Left Rear Trailer Wheels
Inspect Rear of Trailer
Inspect Double, Triple and Full Trailers
Inspect Right Rear Trailer Wheels
Inspect Right Side of Trailer
Inspect Right Rear Tractor Area
Inspect Right Saddle Tank Area
Inspect Right Front Side of Tractor
Inspect Steering Axle(s)
Inspect Axle(s) 2 and/or 3
Inspect Axle(s) 4 and/or 5
Prepare the Vehicle and Check Brake Adjustment
Inspect Tractor Protection System (this procedure tests both the tractor protection system and the emergency brakes)
Inspect Required Brake System Warning Devices
Test Air Loss Rate
Check Steering Wheel Lash
Check Fifth Wheel Movement
Complete the Inspection
It is imperative for the safety of the inspector that you follow all directions.
Never start the truck or release the brakes unless instructed to do so.
Don't be afraid to ask questions and especially if it involves safety.
What do those CVSA stickers mean?

The number indicates the year.
Each quarter is a different color and the inspectors cut out a top corner to indicate which month of the quarter the inspection was performed.
Avoid bad advice from so called truck stop experts
I have heard so many crazy rumors and myths from drivers who heard them at truck stops. Bad advice from "truck stop lawyers" can turn into bad decisions. Some examples of bad information are:
"I have 15 minutes to update my log book before I have to give it to you."
"I just passed an inspection last month so you can't check me again."
"I don't have to let you inspect my truck unless you have a warrant."
"I don't have to pull into the weigh station because I'm not for hire."
"I can use paper logs if I don't understand how to use the ELD."
In closing
Even if you follow all of the tips provided, there are no guarantees that you will not be subjected to an inspection. You may leave with a CVSA "Happy Sticker" for your windshield which means there were no defects. If you are not that lucky and the inspector finds some violations, hopefully these tips will make the experience less painful.

Roger LeBel is the Safety Compliance Manager with Armellini Logistics in Palm City Florida. He has over 25 years of commercial vehicle safety experience in both the private sector as well as a CMV enforcement unit commander.